ABOUT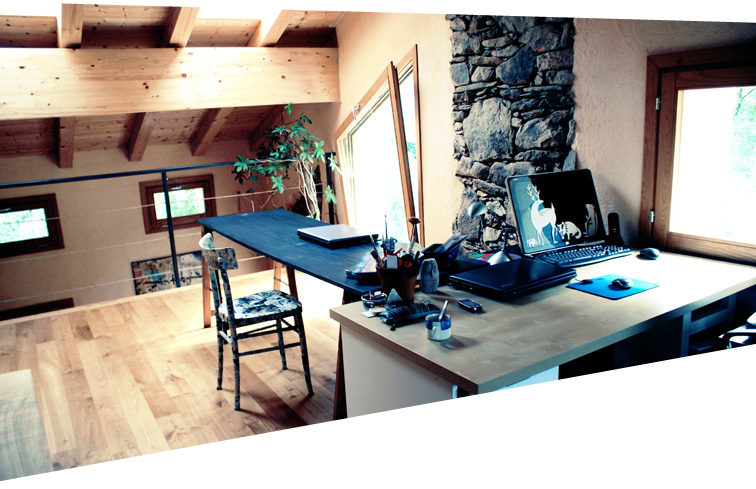 Ciao! Il mio nome è Francesca Reinero, sono nata a Cuneo il 13 Maggio 1978 .
Mi sono diplomata presso l' Accademia di Belle Arti nel 2000 con lode. Dal 1997 opero nel campo della grafica e dell'illustrazione ricevendo importanti premi e riconoscimenti.
Nel 2009, dopo aver lavorato per alcuni anni, come dipendente, in agenzie di progettazione grafica e comunicazione, fondo ufficialmente la ditta individuale ZOOGRAPHICO.
Provo a rispondere alle domande più frequenti che mi vengono rivolte
Quali servizi offri?
Il mio è un servizio creativo e professionale ed è rivolto ad aziende, agenzie di comunicazione, piccole imprese, commercianti, liberi professionisti, associazioni, cooperative e singoli individui.
Le mie competenze riguardano la progettazione grafica nell'ambito di prodotti DTP e l'illustrazione applicata in diversi settori quali grafica, editoria, magazine, infografica, packaging, design e allestimento spazi espositivi.
Il mio stile si avvale di diverse tecniche, da quelle più tradizionali a quelle digitali, questo per soddisfare al meglio le diverse esigenze comunicative. Il mio obiettivo è quello di aiutarvi a raggiungere il vostro obiettivo.
Un design grafico accattivante può essere un buon punto di svolta per la vostra comunicazione!
Quanto mi costa?
Non ho alcun listino fissato, in genere ascolto con attenzione ciò che richiedete e metto insieme una proposta unica in base alle vostre esigenze. Il modo migliore per avere un preventivo o maggiori informazioni è inviarmi una e-mail a zoographico@gmail.com specificando le vostre necessità.
Possiamo lavorare insieme anche se siamo lontani?
Sì, possiamo. Il nostro rapporto lavorativo può benissimo essere condotto via email o via telefono. Se invece siete in zona, allora sarebbe fantastico incontrarci. Per gli studi  grafici e/o le aziende che necessitano di una presenza interna possiamo concordare insieme una collaborazione ad hoc. Non esitate a contattarmi!
Fai tutto tu il lavoro?
Sì, lo faccio tutto io il lavoro. Il che significa che quando mi affiderete un lavoro si lavorerà direttamente con me. Non ho alcun dipendente o subappaltatori, se non specificato. Quando è necessario però ricerco la collaborazione con altri professionisti quali fotografi, architetti, programmatori web, per garantire, il più possibile, la massima qualità, non solo per il livello del progetto grafico, ma anche nell'aiutarvi con tutto ciò che è necessario per ottenere il vostro prodotto finito.
Perchè ZOOGRAPHICO?
La creatività è in qualche modo paragonabile ad un istinto animalesco, un lampo incontenibile che viaggia libero oltre le sbarre immaginarie di una gabbia. Una forma che vive selvaggia senza essere domata o addomesticata. Il fascino emanato da un animale che vive in libertà non è paragonabile alla noia ed allo stress vissuto da un animale costretto in una gabbia.
Questo vale anche per la comunicazione.  Il potere della libertà creativa porta idee fresche e vincenti in grado di valorizzare e presentare al meglio i vostri prodotti e la vostra attività!
Se pensate di avere un lavoro che possa essere perfetto per me non esitate a mettervi in ​​contatto!
HELLO!
My name is Francesca Reinero, I was born in Italy (Cuneo) May 13, 1978.
I graduated from the Academy of Arts in 2000 with honors. Since 1997 I start activity in the field of graphics and illustration achievin important prizes and awards.
In 2009, after working for some years in graphic design and communications agencies, I start formally ZOOGRAPHICO.
I'm a multi-disciplinary illustrator and graphic designer working with clients all around the world.
Well, I try to respond to frequently asked questions that are directed to me
What services do you offer?
I provides a creative and professional service to companies as well as to communications agencies, small business and individuals.
My speciality is about graphic design, logos, business cards, creative projects, illustration, book covers, brochures, design, packaging, corporate identity, infographic design, décor design… and everything related to creativity!
My style takes advantage of a great many techniques; this to suit the needs of the client.
My goal is to help you achieve your goal.
Good graphic design can be a good turning point for your company!
What does it cost to hire you?
I have no set price list, but rather I listen carefully to what potential clients require and put together a unique proposal based on their needs. The best way to get a quote or more information is to send me an email outlining your requirements.
Can we still work together if we live in different countries?
Yes, in fact the vast majority of my clients are not based in my area. Business is simply conducted via email or phone (although my spoken English is not very good) . If you are in the area, then it would be great to meet.
Do you do all of the work?
Yes, I do all of the work which means when you hire me, you will work directly with me. I do not have any employees or sub contractors, unless specified. I always aim for top quality, not only in the art itself, but also in assisting my clients with everything is needed to get their product done. For this reason, when necessary, I seek collaboration of qualified professionals such as photographers, architects etc.
If you have a "mission" you think would be perfect for  me feel free to get in touch!